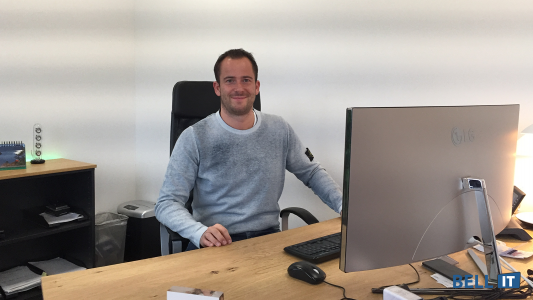 Today we get to know Andreas Kürzinger. He is one of the two founders and Managing directors at Bell IT GmbH. We asked eight questions, see yourself what his answers were.
Can you please introduce yourself?

I am Andreas Kürzinger, founder and general manager of Bell IT. I am 37 years old, married with two children.
When did you start at Bell IT?

Right from the start in September 2011.
What are your tasks at Bell IT?

I am primarily looking at the strategic development of the company, our customers and suppliers, therefor mainly active in purchasing and sales.
What do you like most about your work?

I love the progress we made in the past five years! We started as a two man show, today we have more than 30 employees. Every day there are new interesting challenges and it never gets boring at any point.
What did you do before your time at Bell IT?

I did start my IT career at Ingram Micro, after a few years I moved on to Bell Microproducts. As Bell Micro was bought out by Avnet, we decided it was the perfect timing to found Bell IT.
What are your personal interests?

Family comes first, I love good food and going skiing / snowboarding and playing tennis.

What was your most bizarre experience?

The Big Shot at the Stratosphere Tower in Las Vegas.
Name something you want still want to do in your life?

Cannot really tell straight off as I don't have a checklist for that